Lapland Chamber Orchestra

26.10.2022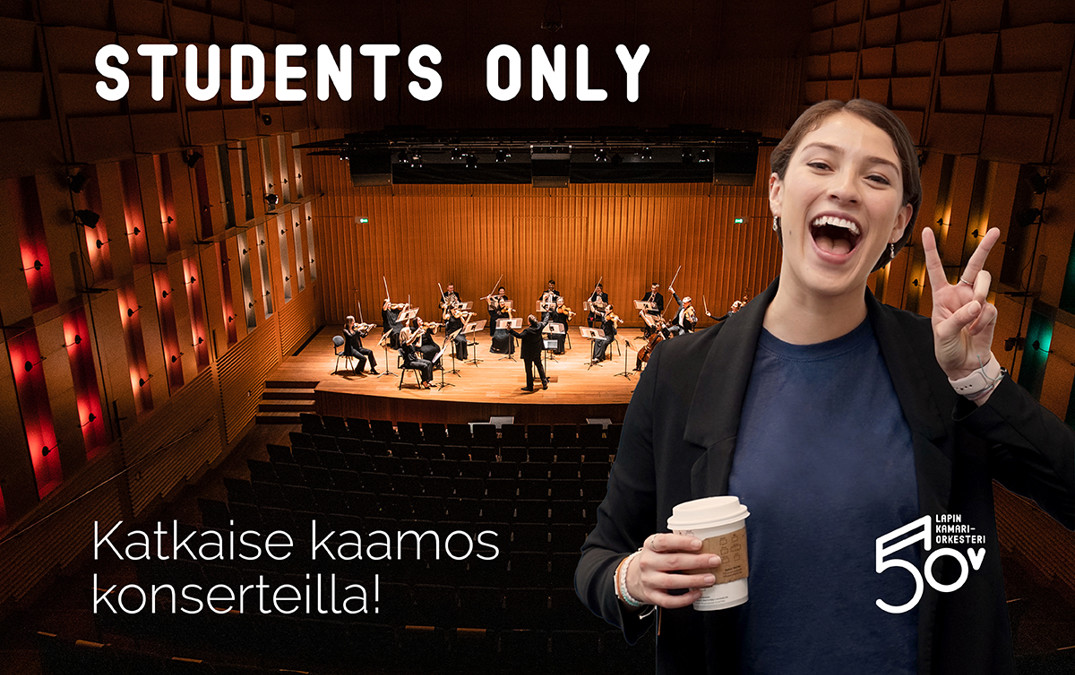 STUDENTS ONLY!
Lapland Chamber Orchestra season sales for students only! Read more...
The last minute ticket with valid student card for 6€!
The last minute tickets are available to all Lapland Chamber Orchestra concerts at Korundi for students with a valid study card! Reclaim your affordable way to concert from Korundi ticket sale just before the venue (from one hour 'til few minutes before the concert). Please note that the offer is valid, if there's vacancy.
Two for one to concert From Korundi's jewellery box on 17th November!
Bring Your friend to concert at get your tickets with only 12€! The offers stands only online on Ticketmaster via this link!
Mini season ticket for November concerts 25 €!
Cut the darkness with music and get your Mini season ticket at Korundi ticket sale with your valid study card for only 25€ (normal total price 33€). The mini season ticket includes:
Thursday 3rd November 7pm Premiers galore… not forgetting Boléro!
Harpist Anni Kuusimäki, conductor John Storgårds. Programme includes beloved classics and Finnish premiers. ! Meet the artist with host Anu Jormalainen and composers Osmo-Tapio Räihälä and Aki Yli-Salomäki at 6pm at Korundi Kitchen & Café, free entry.
Thursday 10th November 7pm Embracing the night
Soloist and musical direction renowned violinist Liza Ferschtman.
Thursday 17th November 6pm From Korundi's jewellery box
Lapland Chamber Orchestra's own musicians with gems of chamber music from Jaakko Kuusisto and Franz Berwald. The concert does not include an interval and begins at 6pm.