location
Korundi is located in Rovaniemi along the northbound Highway 4. The massive red-brick building of the mail truck depot, built in 1933, is a good landmark when navigating to Korundi. This building, now home to the House of Culture, is one of the few buildings in Rovaniemi that survived the Second World War. Korundi is situated within walking distance of the Rovaniemi city centre, close to the bus and train stations. The Revontuli Shopping Centre is located right next to Korundi House of Culture.
Address:
Lapinkävijäntie 4, 96100 Rovaniemi.
Location on the map.
Parking
Car parking at Korundi's main entrance is free of charge inside the fences. There are a limited number of parking spaces and please note that some of the parking spaces are reserved for staff. More parking spaces are also available at the Revontuli Shopping Centre located near Korundi.
There are separately marked parking spaces for persons with reduced mobility near the entrance.
entrance
You can enter Korundi from both the south and north doors. Korundi's exterior doors are electrified.
Assistants are entitled to free admission to exhibitions, events and concerts. We charge a service fee 1,00€ / concert ticket.
Guide and assistance dogs are welcome to Korundi and the exhibitions.
cloakroom
Korundi's lobby area has a self-service cloakroom and lockers that are free of charge. Korundi is not responsible for any items left on the coat racks.
elevators
The exhibition spaces are located on two floors. The elevators are located under the stairs when entering to the exhibition hall and also at the end of the exhibition hall.
Restrooms and accessible toilets
Women's and men's toilets are located in Korundi's lobby area. The accessible toilet is located in the lobby next to the coat racks.
Baby care room
The baby care room is located in Korundi's lobby with the accessible toilet. Strollers are available for loan.
Filming in Korundi
You can take photographs in Rovaniemi Art Museum for your personal use. You may also publish photos on social media - don't forget to tag us in your photos #korundi @korundihouse.
Photography, videography and recordings are generally not permitted at events and concerts without separate authorisation.
Korundi hall
Korundi Hall has 340 seats.
The hall has 17 rows of seats, with 20 seats in each row. The hall has an ascending auditorium, but the rows 1 and 2 and the two last rows, 16 and 17, are on the same level.
Korundi Hall has three wheelchair spaces located on the right in rows 16 and 17 when entering through the hall's left-side door.
Please note that the sound volume at concerts and events may temporarily exceed normal levels. Please use earplugs or hearing protectors if you wish.
Audio induction loop in Korundi Hall
Korundi Hall has an audio induction loop and Korundi's customer service has a service point loop. These allow listening with the 'T' setting of hearing aids enabled.
See the coverage map of Korundi Hall's audio induction loop here: https://kuulokuvat.fi/en/view/862/973/2055
Korundi hall seat map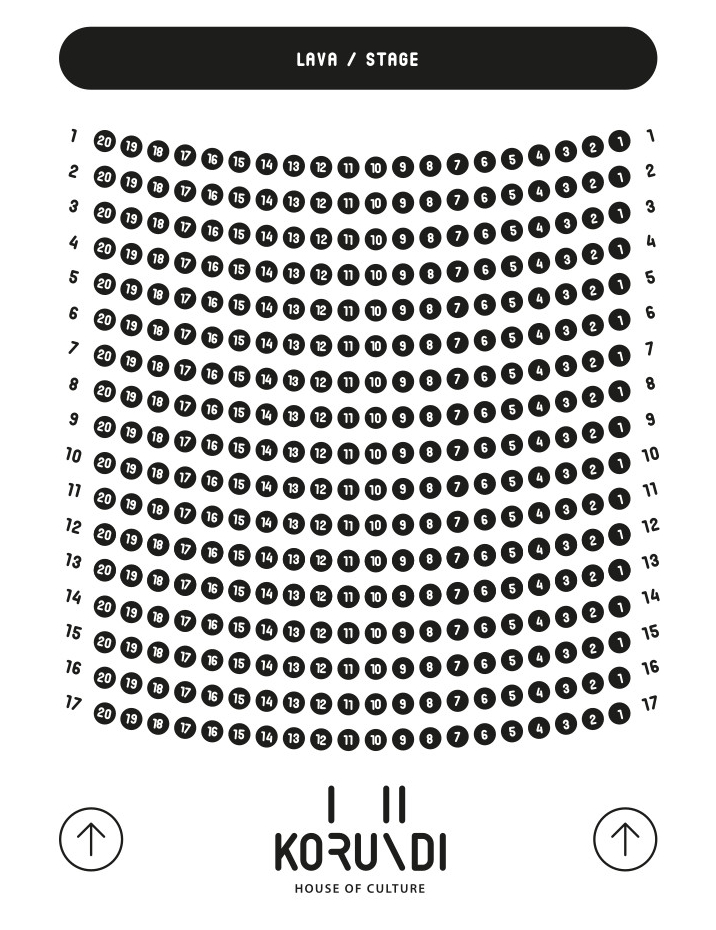 Korundi floor maps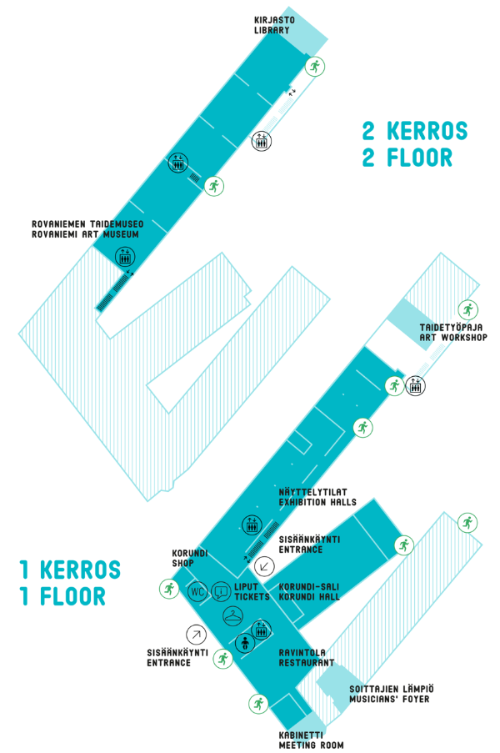 Accessibility of the website
Compliance
The City of Rovaniemi website mainly complies with Level AA requirements of the Web Content Accessibility Guidelines (WCAG) 2.1.
About the accessibility statement
The website Korundi.fi was launched on 22 March 2022. This statement was written on 21 March 2022. The statement is based on user testing and self-assessment as well as an evaluation carried out with an accessibility checker. The website is regularly tested with an accessibility checker to ensure and develop accessibility.
Feedback and contact information
You can use the form to give feedback on the accessibility of the Korundi website. Non-accessible content can be requested in an accessible format.
Accessibility complaint and accessibility evaluation request
If you receive an unsatisfactory response to accessibility feedback or you do not receive the requested content in an accessible format, you can submit an accessibility complaint or an accessibility evaluation request. In Finland, accessibility is supervised by the Regional State Administrative Agency for Southern Finland (ESAVI). The ESAVI website, Saavutettavuusvaatimukset.fi, lists the instructions and addresses for submitting complaints.
Contact details of the supervisory authority
Regional State Administrative Agency for Southern Finland, Accessibility supervisory unit
www.saavutettavuusvaatimukset.fi
saavutettavuus@avi.fi
Tel. +358 295 016 000 (switchboard)